Enterprise Application Cases
---
  1. Guangdong Zhanjiang Kaolin Clay Factory: annual output of 3,000 tons
  2. Guangzhou Gaozhou Kaolin Clay Factory: 3000T calcinated soil

Overview of Kaolin Clay Drying Calciner
---
  The calcination process system worked out and process calciner determined in accordance with coal series clay, soft and hard soil characteristics can realize the fast decomposition, slow redox and drying use of heat source. Small land covering area, it can produce double-90 soil and calcinate modified soil, and it gives good performance in the use and is better than the traditional method. The selection of calcination process and calcination equipment will decide the product quality and various performance data. The current calcination methods available mainly are external combustion and internal combustion rotary kiln as well as shaft kiln. The composite calcination kiln developed and manufactured by our company is a kind of new advanced process equipment, which is determined in accordance with kaolin clay calcination process. (Site Application Pictures)

Products Introduction
---
  The composite kaolin clay calcination kiln developed by our company is mainly composed of three parts. Drying part: Dynamic pre-decomposition kiln, rotary decomposition-reduction kiln, apply the exhaust generated from decomposition-reduction kiln as the heat source of dynamic pre-decomposition kiln and drying equipment to realize energy utilization, and it can calcinate ordinary soil, double-90 kaolin clay and cable-level kaolin clay.

Working Principle
---
  Apply internal combustion weir rotary kiln, and take gas and oil as heat source, the hot air generated enters into the kiln, and the kaolin clay after drying and pre-decomposition enters into weir kiln for calcination, and the exhaust generated from calcination, after passing the dryer of pre-decomposition, is discharged.

Performance Features
---
  This calcination process is a new process which is developed on the basis of traditional one.
  ♦The particle size, whiteness and rheological performance etc of the calcinated kaolin clay are better than those of traditional method.
  ♦Small land covering area for equipment, low investment and convenience operation.
  ♦Energy consumption is lower than that of traditional method.
  ♦No environmental pollution, the use of civilized production.

Technical Specifications
---
  A single piece/set of equipment has annual production capacity: 2000,3000,5000 and 10000 t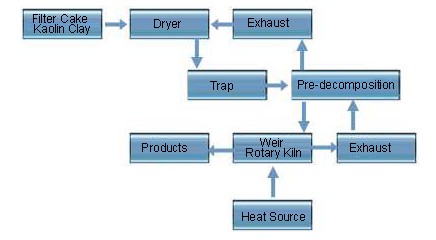 Enterprise Application Cases
---
  1. Guangdong Zhanjiang Kaolin Clay Factory: annual output of 3,000 tons
  2. Guangzhou Gaozhou Kaolin Clay Factory: 3000T calcinated soil