Description
---
Vanadium Pentoxide (V2O5) Drying and Calcination Process
Introduction to Vanadium Pentoxide (V2O5) Drying and Calcination:
It applies drying, decomposition and fast melting technology to manufacture V-chips, which is the internationally advanced process equipment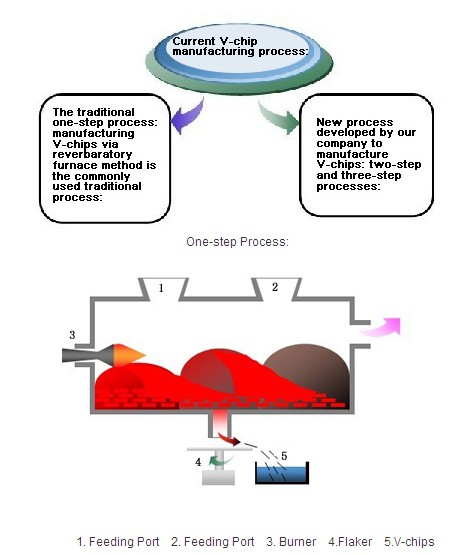 In the traditional one-step process, the water-bearing filter cakes of metavanadate or ammonium polyvanadate generated in prior production step are put into the reverberatory furnace to gradually complete the drying, deaminating, melting procedures via heating for a long time.
The one-step process is simple, and mainly has the following problems
1. High energy consumption, energy efficiency is less than 30%.
2. Low recovery rate, the current reachable recovery rate is 95% to 97%.
3. Environmental pollution, the ammonia generated from the melting of vanadium generally is released into the air, which causes air pollution.
4. Poor operating conditions, due to its poor air tightness, the dust and smoke generated affect the environment and health of workers.
Two-step V-chips manufacturing process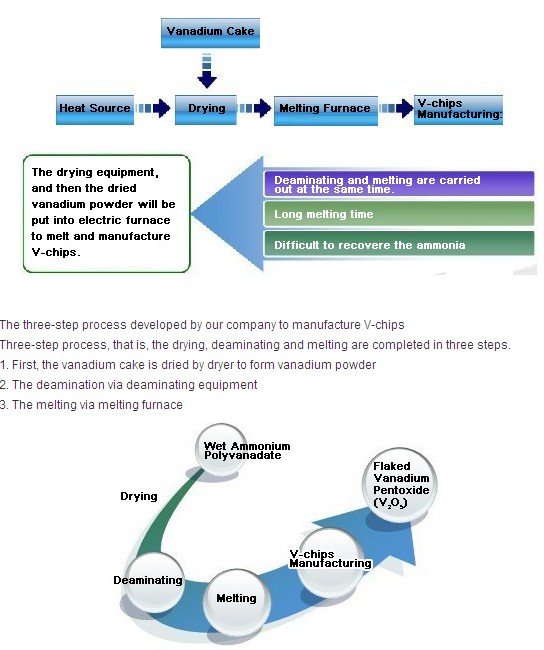 First, drying
The flash drying method is used, that is, the vanadium cake is put into the dryer via feeder, and then the heated hot air enters into the dryer. Under the mechanical break up function, the vanadium cake is being fast dried into powder to form the powdered ammonium polyvanadate.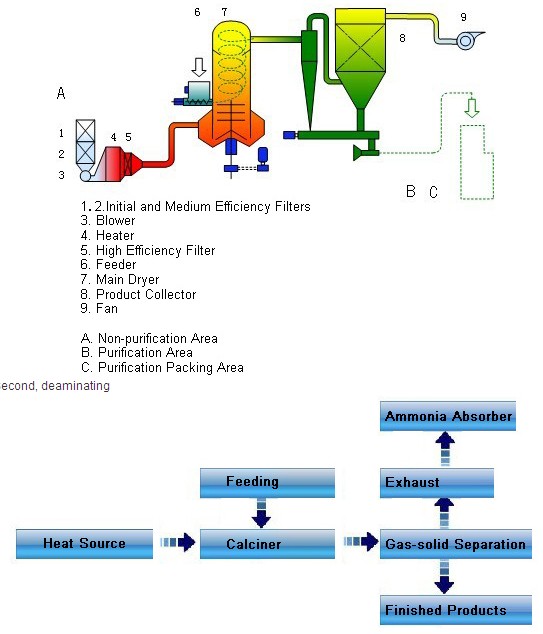 The flash Si De calciner is used to achieve fast deamination. The dried powdered vanadium will be continuously fed into the deamination furnace, and then the heated hot air enters into the deamination furnace to fast mix with the powdered vanadium. Under the continuous flow, it realized the rapid decomposition to V2O5 powdered vanadium tens of seconds later.
Heat Source

Feeding
Calciner
Ammonia Absorber
Exhaust
Gas-solid Separation
Finished Products
Third, melting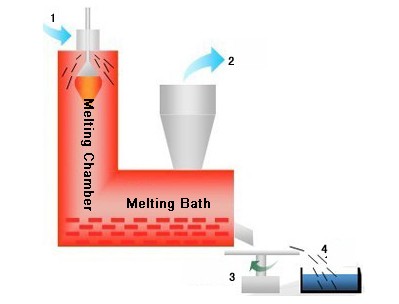 In this melting process, it mainly concerns three-phase electric arc furnace, radiant-tube melting furnace and flash melting furnace. The radiant-tube melting furnace and flash melting furnace are the new type of furnace to fast melt vanadium flake, and they are mainly composed of flash melting chamber and thermal insulation melting bath.
1. Feeding Port 2. Exhaust 3. Flaker 4. V-chips
Main features of flash melting
1. Fast melting speed, high melting intensity, small land covering area
2. Significant energy-saving
3. Recovery rate may be greater than 99%

New Three-step Process
---
The application of three-step process can improve the efficiency of V-chip manufacture, and the hot air generated from flash melting furnace can be used as drying heat source, which not only efficiently uses the heat, but also effectively recovers the gasified ammonia in the air, so it has significant economic benefits.

Enterprise Application Cases:
---
1. Xinxin Vanadium and Titanium Company of Chengde Steel Factory
2. Wuhan Jianlong Company
3. Shanxi Huayuan Mining Co., Ltd.