Product Description

---
The jet-tube hot-blast stove is a new type of high-temperature hot-blast stove, which is composed of multi-layer sleeves. The flue gas and air are conducted heat exchange through the interlayer, and the high-temperature area adopts the jet type heat exchange method to obtain the maximum heat exchange. efficiency.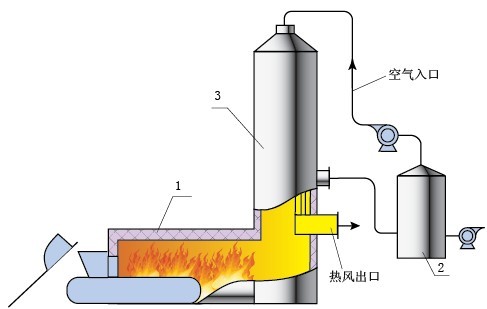 Working principle

---
The hot flue gas generated by burning coal, oil, gas and other fuels in the combustion chamber (1) enters the hot blast stove (3) flue gas interlayer, and then enters the air preheater (2) after multiple interlayer heat exchanges. discharge.
The preheated air enters the air interlayer of the hot blast stove, and is discharged from the outlet of the hot blast stove after heat exchange through the jet layer and the multi-layer heat exchange layer.

Performance characteristics

---
Output hot air temperature 400-650℃
Output heat (60-420) × 104kcal/h
Thermal efficiency≥70%
The use temperature is stable and the temperature control is convenient.
Equipped with air preheater to effectively reduce exhaust gas temperature

Scope of application

---
It is suitable for various drying equipment, calcination equipment and chemical equipment with high temperature hot air as heat source.